Barbarossa Pirate Ship
No customer reviews yet. Be the first.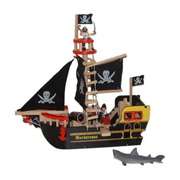 Barbarossa Pirate Ship Review
This wooden Barbarossa pirate ship from Le Toy Van is just fabulous. It has numerous features including a crows nest for the lookout, a below-deck dungeon for the prisoner, an authentic ship's wheel (that turns) for the captain and a "walk the plank" feature for any wayward crew!
The sails of the Le Toy Van Barbarossa Pirate Ship are black material, painted with a skull and crossbones - which glows in the dark. There is rigging to be climbed, an anchor to be dropped, a cannon to be fired (complete with cannon balls) and plenty of storage space below deck for stolen treasure! The back of the ship folds down to gain access to the area below deck. It is designed and suitable for those aged over 36 months. Some home assembly is required and full instructions are enclosed.
This ship is a Gold Star winner from Right Start Awards and provides lots of play value. It is ideal for developing imagination and pretend-play. This is one of the best pirate ships on the market.
Dimensions: Length 47 cm, Width 22 cm, Height 48 cm Weight: 2650 g
This Barbarossa Pirate Ship review was written by Knot Toys.
RECOMMENDED RETAILERS

Amazon
The world's most famous online retailer sells an unparalleled selection of toys.
Buy the Barbarossa Pirate Ship now >>