The Gruffalo Toys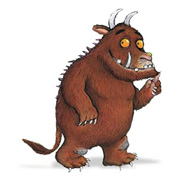 Created by author Julia Donaldson, and first published in 1999, The Gruffalo book is brought alive in a 30-minute animated feature film especially made for TV. The Gruffalo soft toys can be bought separately or in a pack with the book which makes an attractive gift. The other main character is the brave and resourceful mouse, who encounters and scares a fox, a snake and an owl, and eventually also scares the hideous and bearlike Gruffalo who himself runs away.
The Gruffalo soft toy is a great plaything for kids, and although pretty fearsome looking with his purple prickles, black tongue and knobbly knees. He will help children to develop their own imaginations and adventure stories as they cuddle the Gruffalo toy whilst having the story read to them.
So popular is the story, that the Gruffalo books are available in several versions – an activity book with stickers and puzzles to solve, a colouring book as well as a pop up theatre book that creates the forest vista. The Gruffalo jigsaw book takes the adventure a stage further where children can have hours of fun using the pieces to make up to six different scenes from the puzzle pieces.
DISTRIBUTORS
RECOMMENDED RETAILERS

Amazon
The world's most famous online retailer sells an unparalleled selection of toys.
Buy Gruffalo toys now >>

Giddy Goat Toys
A traditional independent toy shop with online sales of toys from popular brands.
Read more about Giddy Goat Toys >>