Underground Toys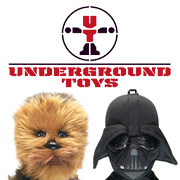 Having produced toys, models and gadgets for massive, household-name franchises such as Avatar, Doctor Who and Star Wars, Underground Toys applies their expertise to both mass-market and cult TV and film merchandise.
Founded in 2001 and based in the US and East Anglia in the UK, Underground Toys is run by a talented team of directors that boast over seventy years experience in the collectable toy industry. The company's products are perfectly pitched so that they appeal both to collectors and to those that simply love them for their play value.
Underground Toys certainly has an eclectic array of licences under its belt. Kid-friendly brands such as Transformers and WWE share shelf space with more adult-orientated brands such as Carry On, Rambo and The Pub Landlord. Each licence calls for a slightly different approach - and this means that Underground Toys has developed an extensive range of skills that enables them to produce products as diverse as plush, action figures, mugs and electronic gizmos.
LICENCES HELD BY UNDERGROUND TOYS
RECOMMENDED RETAILERS

Amazon
The world's most famous online retailer sells an unparalleled selection of toys.
Buy Underground Toys now >>