WWE Toys and Action Figures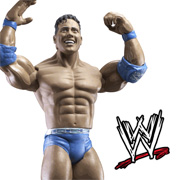 Originally known as WWF (or World Wrestling Federation), the company had to change its name to WWE (or World Wrestling Entertainment) after the well publicised court battle with the World Wildlife Fund in 2002. Since then, the brand has gone from strength-to-strength, and WWE toys continue to sell in vast numbers to kids and collectors worldwide.
Not only are the WWE toy ranges refreshed as new wrestlers emerge onto the wrestling stages, but there are lots of exciting accessories for fans to role play with. The main WWE toys are the action figures from each wrestling series. In addition to these are various different rings, championship belts, a microphone to make announcements and various items of dressing up to look like your favourite star.
The WWE brand has expanded into books, DVDs, music and films, and some of the earliest character toys are now highly sought after by collectors worldwide, providing they are still in good condition – and not too beaten and battered!
US based The Bridge Direct launched a new selection of WWE construction style figures, toys and wrestling rings in early 2014. Distributed by Flair in the UK, these toys use the designation 'C3 - short for create, construct and connect'. The construction sections and blocks are designed to be universally compatible with other building brands, and appeal to all fans of the WWE franchise.
DISTRIBUTORS
RECOMMENDED RETAILERS

Amazon
The world's most famous online retailer sells an unparalleled selection of toys.
Buy WWE toys now >>