D'arpčje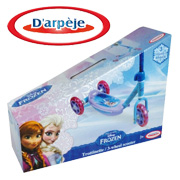 D'arpčje is one of France's premier supplier of licensed toys and gifts. They have a multitude of products based on the Frozen brand, with children's scooters, desks and craft sets being some of the best-selling lines.
Their own Flex brand of scooters, quad skates and skateboards sell alongside protective equipment like helmets and gloves as well as items such as bells, baskets and water bottles.
A licencing agreement with Marvel sees many of their superheroes emblazoned on scooters and skateboards with a similar range of protective products. D'arpčje continues to design and manufacture new children's products every year.
LICENCES HELD BY D'ARPEJE
RECOMMENDED CATEGORIES

Kids explore on two or four wheels with toys like bikes, scooters and go-karts.
Visit the Bikes & Rides category >>

Character toys are popular as TV series and films attract spin-off products.
Visit the Character category >>
Outdoor toys and games are the perfect way to keep your kids fit and active.
Visit the Outdoor category >>