My Little Pony Toys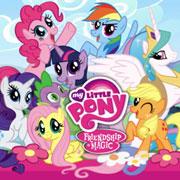 Although My Little Pony has still got a long way to go until it reaches the iconic heights of toys like Lego or Monopoly, it did actually outsell its nearest rival, Barbie, during the 1980s when My Little Pony toys were at their most popular.
Whilst young boys all over the world struggled to work out quite what their sisters thought was so great about the slightly strange looking toy ponies, the girls had no such trouble identifying with the colourful, happy and spontaneous little figures. Some of those same girls can be spotted today wearing T-shirts emblazoned with the phrase "I love rainbows" which is a nostalgic nod to the very first generation of My Little Pony toys that now seems to represent the 80s for girls in a similar way that Subbuteo does for boys.
In true toy industry fashion, My Little Pony toys went on to inspire several animated cartoons and feature films. In turn, these films helped to create even more characters that soon turned into the latest 'must have' toys. A new TV show launched called 'My Little Pony Friendship is Magic' with six of the ponies featuring in a series of adventures. Toy maker Hasbro holds the master licence rights and continues to develop new toys to stay up to date. Popular items like 'My Little Pony is Magic Gift Set' is one such toy that contains pony characters and a book about the series.
With nearly 150 other companies producing a whole series of other My Little Pony products like arts & crafts, collectable figurines, bedroom furnishings and clothing, the brand is assured of a long and secure future.
HERO PRODUCTS
DISTRIBUTORS
RECOMMENDED RETAILERS

Amazon
The world's most famous online retailer sells an unparalleled selection of toys.
Buy My Little Pony toys now >>