Monopoly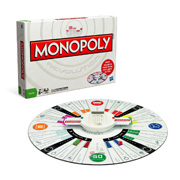 With over 250 million Monopoly games sold worldwide in the last 60 years, over 5 billion houses made and published in over 25 languages, it's no wonder that Monopoly is probably the world's favourite game! Counter to that is the number of parents who think it's the most annoying game in the world! They cringe when the kids want to play it, because they know it will go on forever! There are many ways of playing a shortened Monopoly game however, and its everlasting popularity is testament to the huge number of variations that have been produced worldwide.

In the UK there is a steadily growing number of town and county versions where some organisations will pay just to have their company featured on one of the property squares. Some internet-based companies only sell Monopoly games - such is the popularity amongst collectors to have the latest version. Some of the interesting US styles of Monopoly games are based around a companies' products. Examples include John Deere, Harley Davidson and Ford Thunderbird. Many others are based on sports like Golf, Baseball, Fishing or even Snow Boarding and character versions include Simpsons, James Bond, Snoopy and The Muppets.
DISTRIBUTORS
RECOMMENDED RETAILERS

Amazon
The world's most famous online retailer sells an unparalleled selection of toys.
Buy Monopoly games now >>