My Little Pony Twilight Sparkles Rainbow Kingdom
No customer reviews yet. Be the first.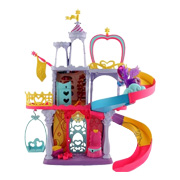 It's hard to believe that My Little Pony was first launched onto the girls' toy market in 1983. Many styles, colours and scents later, Hasbro launched a fantastic accessory known as My Little Pony Twilight Sparkles Rainbow Kingdom. The giant centre piece of this fantasy world is every little girls dream come true.
The castle palace stands three levels high, with every tier having its own accessories that can be unlocked with a special friendship key. There's a magical treasure chest, a wardrobe, a book and even a vanity unit waiting to have their secrets revealed.
There's even a slide for My Little Pony to ride down on the rolling cloud car. Made in pretty pastel colours to match the characters, this Twilight Sparkles Rainbow Kingdom Playset is the perfect toy for all Pony fans aged 3 and over.
RECOMMENDED RETAILERS

Amazon
The world's most famous online retailer sells an unparalleled selection of toys.
Buy the My Little Pony Twilight Sparkles Rainbow Kingdom now >>