Star Wars Jedi Master Lightsaber Set
(1 review)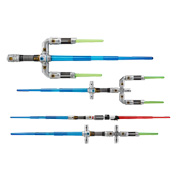 When Hasbro previewed their Star Wars Jedi Master Lightsaber set at the New York Toy Fair, trade buyers were blown away with enthusiasm. This top-of-the range set is part of the Bladebuilders series of customisable weapons that kids can build in dozens of different designs. Inspired by the weapons in the seventh film Star Wars: The Force Awakens, the franchise gets off to a flying start.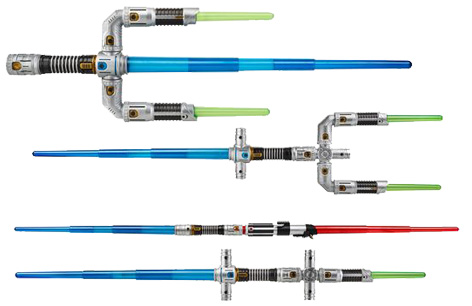 This set not only builds a Lightsaber with awesome electronic lights and sounds but also includes two Lightdaggers, a selection of connecting pieces and an expansion hilt. Each part is fully compatible with other Bladebuilders sets so that children can create their weapon of choice, or match it to their favourite Star Wars character like Darth Vader or Luke Skywalker.
Other variants include those for Yoda, Obi-Wan Kenobi and Anakin Skywalker. This Jedi Master Lightsaber is the ultimate role play toy for all fans of the everlasting Star Wars series. By appealing to kids as well as an older segment of devotees who watched the movies first time around, this Hasbro toy is one of the best they've ever made.
RECOMMENDED RETAILERS

Amazon
The world's most famous online retailer sells an unparalleled selection of toys.
Buy the Star Wars Jedi Master Lightsaber Set now >>