Thinkway Toys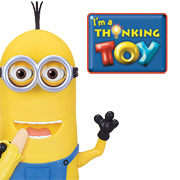 Canada based Thinkway Toys design and produce some of the hottest toys on the planet! Using the tag line 'Creating Fun With Technology', all of their products incorporate some form of movements, sounds, lights and even robotics to enchant and surprise their young kid customers.

All of Thinkway's toy licences are some of the most best ever created, with Toy Story, Disney Planes, Disney Cars, Batman, Star Wars, Despicable Me and Minions being some of the most popular. It's this latter brand that's causing a huge amount of excitement as Stuart, Kevin and Bob set off on their travels to find their ultimate master.

Only Thinkway have the capacity to make such an eclectic selection of Minions toys with Tumbling Stuart being the star of the show! Somehow he always manages to get up when he falls over and can even react to his owners' voice with a talkback feature. This toy has to be one of the funniest ever, and even has original voices from the movie!

Children are also clamouring for the banana eating Kevin action figure as well as the guitar playing Stuart and the talking Bob action figures that both feature voices and musical sounds. Other Minions toys include a Jumbo Bob soft toy, plush Buddies and a selection of mini figures in surprise foil packs.
LICENCES HELD BY THINKWAY TOYS
RECOMMENDED CATEGORIES

Action figures staple favourites include superheroes, monsters and robots.
Visit the Action Figures category >>

Buy toy cars, trains and boats as well as buses, diggers and other vehicles.
Visit the Cars & Vehicles category >>

Shop for kids tablets, animatronic pets and many other electronic toys.
Visit the Electronic category >>
Budding mechanics, chefs or doctors love the great choice of role play toys.
Visit the Role Play category >>