Nerf Toy Guns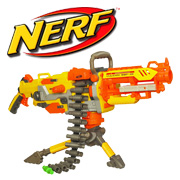 With products covering all ages from 4 upwards, NERF toy guns are one of the most popular brands sold in toy shops throughout the world. With their bright colouring, soft ammunition and safe play, NERF toy guns enable kids and young adults to act out many forms of non dangerous role play. All NERF toy guns use harmless soft foam ammunition in the form of darts or pellet balls that all bounce harmlessly off targets after they've been fired.
Many NERF toy guns like the tag pistols include targets for practise, and use simple low air pressure to propel the missile on its way. There's many different style of NERF toy guns to choose from, including imitation pistols, machine guns, rifles and even a crossbow. The bright striking colours mean that they are easy to see and could never be confused with anything else.
NERF are also well known as the makers of some amazing throwing toys, such as several variations of the NERF Vortex Mega Howler that can often be seen and heard in parks or on beaches during fine weather. The clever sound box traps air as the howler spins in flight and then emits a unique noise which often attracts interested onlookers! Fans of Nerf may also like to check out the range of Xploderz guns which use water-infused pellets rather than traditional foam darts.
HERO PRODUCTS
DISTRIBUTORS
RECOMMENDED RETAILERS

Amazon
The world's most famous online retailer sells an unparalleled selection of toys.
Buy NERF guns now >>