NERF Havok Fire EBF-25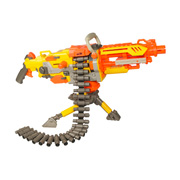 The incredible NERF Havok Fire EBF-25 blaster toy gun is a completely automatic cannon that fires the soft and super safe NERF foam darts. With a magazine that holds 25 darts and a potential fire rate of three per second, it doesn't take long before reloading is required! The NERF Havok Fire EBF-25 blaster has a simple switch system that enables the user to change to single shot mode for more accurate blasting of their opponent!
This battery operated NERF Havok Fire EBF-25 blaster has a realistic belt feed supply of darts, and with a powered internal piston it makes this toy gun one of the best available. Made in NERF bright orange and yellow colours, it also features a folding and removable tripod for a speedy escape or easy transportation.
Although the recommended age is from 6 years old, we know that many young adults love the look and feel of this toy gun and spend hours battling with their friends in the woods, parks or beaches.
RECOMMENDED RETAILERS

Amazon
The world's most famous online retailer sells an unparalleled selection of toys.
Buy the NERF Havok Fire EBF-25 now >>

Argos
The original catalogue shop now sells a huge range of toys at great prices.
Buy the NERF Havok Fire EBF-25 now >>