Sakar Toys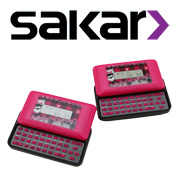 With offices in most of the world's major capital cities, Sakar International is a global company that manufactures branded electronic products and accessories. Computers, cameras and electrical appliances are just a small part of the ranges which also have a heavy emphasis on toys.
By signing up popular toy franchises, Sakar have created a series of electronic toys that complement traditional ranges made by established toy manufacturers. A Batman walkie-talkie or a Spiderman torch and a Hello Kitty intercom set are just some of the popular items sold all over the world.

The Frozen brand is well documented as one of the most popular ever, and Sakar's Frozen Karaoke Machine is packed full of features like flashing lights and special voice effects. It can also be controlled by any of Apple's portable devices for extra versatility.
Other popular toy brands in Sakar's portfolio include Gummy Bears, Monster High, Nerf, Disney and Crayola. My Little Pony also gets the company's attention in the form of low priced digital cameras, headphones, musical instruments, speakers and accessories for computers and mobile phones.
LICENCES HELD BY SAKAR
RECOMMENDED RETAILERS

Amazon
The world's most famous online retailer sells an unparalleled selection of toys.
Buy Sakar toys now >>