Nerf Deploy CS-6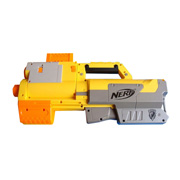 Nerf have always been at the cutting edge of toy guns - and the Nerf Deploy CS-6 doesn't disappoint. The gun goes from stealth mode to attack mode quicker than the eye can see, simply by pressing a concealed button.
Inserting your clip of foam 'bullets' is a cinch: just prime the foregrip back and insert the clip into the side. Your Deploy CS-6 is now ready to be fired at will! Any number of shots can be fired before easily returning the gun to stealth mode and ready for the next bit of action.
The in-built flashlight adds even more excitement. If you need to hunt your enemies down in low light or even in the dead of night, you simply switch on the light and then convert it back to blaster once you've discovered your target.
We reckon all Nerf fans will want a Deploy CS6 to add to their collections - and its fast action modes are impressive and exciting for all age groups.
RECOMMENDED RETAILERS

Amazon
The world's most famous online retailer sells an unparalleled selection of toys.
Buy the Nerf Deploy CS-6 now >>

Argos
The original catalogue shop now sells a huge range of toys at great prices.
Buy the Nerf Deploy CS-6 now >>