Nerf N-Strike Modulus ECS-10 Blaster
No customer reviews yet. Be the first.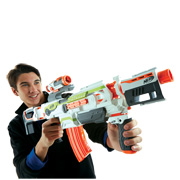 Hasbroís Nerf N-Strike Modulus ECS-10 Blaster is one of the most customisable Nerf weapons ever created! Featuring thirty different ways to create your own unique blaster, the impressive list of parts is quite amazing.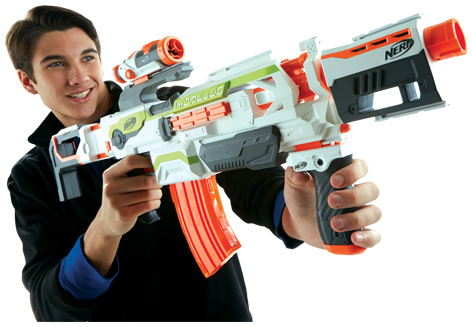 These include the main stock with storage for ammo clips, a precision sighting scope, a drop-down hand grip, dual rail barrel and even extra tactical rails to improve efficiency and accuracy. A ten dart banana clip thatís complete with a supply of N-Strike Darts is also part of the set.
Further upgrade parts are also available as well as supplies of ammo that can soon run out! Nerf N-Strike Modulus ECS-10 Blaster is a great action toy for kids of 8 and over and joins many other Nerf products available from all good toy stores.
RECOMMENDED RETAILERS

Amazon
The world's most famous online retailer sells an unparalleled selection of toys.
Buy the Nerf N-Strike Modulus ECS-10 Blaster now >>