Micro Scooters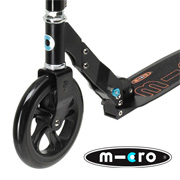 Whilst many kids lightweight folding scooters are often generically known as micro scooters, there is only one Micro Scooter brand. Their mini micro scooter is designed for kids aged 3–5 years old, and features two small front wheels in addition to the back one for extra stability. When they're a bit older, the maxi micro scooter is the ideal choice - and is the transport of choice for kids within normal walking distance of their schools.
Micro Scooter have launched different coloured decks and hand grips so that kids can personalise their own mini micro scooter, and have even introduced some limited editions in awesome colours! For kids with really good balance and steering skills, the range of micro scooters with two wheels only will appeal to them. Featuring a folding mechanism for easy storage, these robust scooters are brilliantly designed and made to the highest possible standards.
As part of an ongoing process of development, Micro Scooter's range also features a compact kickboard with limited front steering and a wider deck – great for kids with confidence and bravado! Wave boards are another range of revolutionary flat deck type products that somehow combine snowboarding, skateboarding and surfing in one clever product.
RECOMMENDED RETAILERS

Amazon
The world's most famous online retailer sells an unparalleled selection of toys.
Buy Micro Scooters now >>

Jumangee Shop
A family-run business located in Greenwich.
Read more about Jumangee Shop >>