Mondo Toys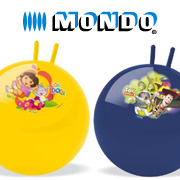 Italian company Mondo has been around since 1948. Initially making toys and crafts, Mondo is now a worldwide company with a number of other manufacturing interests including rubber flooring and yacht building. Almost every child in the world has probably kicked a Mondo Toys playball at some time in their lives; or used one of their other balls for playing soccer, rugby, basketball or volleyball. Thereís also a great selection of football goals, basketball hoops or multisport games sets to keep even the most active child contented.
Mondo Motors division specialises in manufacturing die-cast models in a huge variety of scales. Their selection of basic town car models to the most expensive super cars is a popular range with kids and adult collectors. Mondo Toys outdoor products like scooters and skateboards are always a popular choice, and their in-line skates can be bought to suit boys or girls. Safety gear includes helmets as well as knee and elbow pads to help absorb shocks from the inevitable accidents!
Summer time sees the shops full of Mondo Toys body boards, inflatable paddling pools, floating mattresses or trampoline rings. Buckets, spades and sand shapes are also fashionable purchases, many of them endorsed by kidís favourite TV or film characters. Research and development spending is at the heart of every successful company, and Mondo re-invests quite a high percentage of their profits back into the development of new lines.
A link with US giant toy supplier Thinkway saw Mondo distributing their vast range of Batman merchandise in the UK and throughout Europe. Some of these Batman toys use the latest animatronic technology to bring action figures and vehicles to life. Fans of all the Batman films are always eager to get their hands on the newest merchandise from The Dark Knight Rises and other movies.
RECOMMENDED RETAILERS

Amazon
The world's most famous online retailer sells an unparalleled selection of toys.
Buy Mondo Toys now >>