Mondo Motors Toys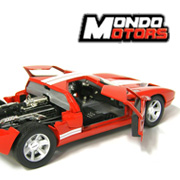 Well known to millions of people as a major supplier of Mondo outdoor toys and playballs, Mondo Motors toys are another division of this successful Italian company that has factories all over the world. Using well known Italian car marques like Fiat, Alfa Romeo, Lamborghini and Maserati as the basis of their toy ranges, popular scales of 1/18, 1/24 and 1/32 are used to produce a stunning selection of highly detailed die cast toys.

From classics like the Lamborghini Miura to the latest Lamborghini concept cars, or a small Alfa Romeo sports car to the newest Alfa luxury estate car, the finish and quality of manufacturing of these Mondo Motors toys are easy to spot. Smaller scales are well covered too, with dozens of different car makes included in the popular 1/43rd and 1/64th scale series. With Mondo Motors having the licence to produce toys based on BBC's famous Top Gear show, the anonymous Stig features heavily within the range of die cast and plastic vehicles.
Motor bikes, tractors, lorries and construction vehicles are all included in the Mondo Motors selections, and if your passion is for Minis, Fords, Porsches, BMWs, Mazdas or Toyotas you're almost sure to find the model you want. Modern and classic rally cars are always popular subjects for collectors and the Mondo Motors 1/18th range are beautifully detailed with accurate markings and paint jobs.
Motor Town is Mondo's name for their ranges of soft vehicles for younger children. Featuring bright colours and rounded edges, subjects include cars, trucks, trains, vans and racing cars. A selection of playsets like a garage, fire station and car transporter help to enhance the play value of this junior range.
LICENCES HELD BY MONDO MOTORS
RECOMMENDED RETAILERS

Amazon
The world's most famous online retailer sells an unparalleled selection of toys.
Buy Mondo Motors toys now >>