Hot Wheels Toys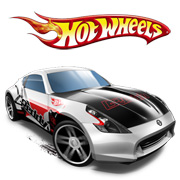 1968 was a bad year for Matchbox toys – the American Hot Wheels toy cars burst onto the market in a segment that had previously been dominated by the UK giants Lesney. Taking toy cars to a new level of sophistication, colouring and speed, Hot Wheels quickly established itself as a staggeringly popular brand, and many new models quickly followed.

One of the most innovative features with Hot Wheels was the introduction of low friction axles, which meant that the cars were much quicker than the competitors. The amazing selection of bright, semi-clear lacquer colours also sent shock waves through the industry. Hot Wheels cars could be sent down plastic tracks which were moulded into zero gravity loops and turns, at a speed which at the time seemed almost unbelievable.
As with all popular brands, Hot Wheels has expanded into many scales and styles, with each new release eagerly awaited by kids and collectors alike. Good examples of the early Hot Wheels models are highly sought after, and can command hundreds of pounds at specialist auctions. The brand is also represented on highly detailed models of Formula 1 cars as well as many other popular styles of vehicles.
DISTRIBUTORS
RECOMMENDED RETAILERS

Amazon
The world's most famous online retailer sells an unparalleled selection of toys.
Buy Hot Wheels toys now >>

Poundtoy
Online sales of top quality branded toysa and games from Hasbro, Lego and Tomy.
Read more about Poundtoy >>