Hy-Pro Toys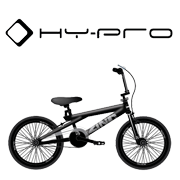 With a presence in most world retail markets, Hy-Pro is well known as a major supplier of children's outdoor play equipment. Many of these products are 'own brand' although the company has also enjoyed considerable success with its many licenced toys. Using important brand names like Barbie, Hot Wheels and Monster High on a variety of boys and girls products helps to drive sales through traditional and online retailers.
Hy-Pro's own ZINC brand of kid's scooters is a huge range of top quality wheeled products. With a variety of specifications, children have a wide range of price points to choose from to suit any budget. Skateboards, BMX cycles, in-line skates and a wide selection of accessories such as helmets and other protective wear all carry the prestigious ZINC brand name.
Hy-Pro has also signed exclusive licence agreements with major football clubs like Barcelona, Liverpool, Chelsea and Tottenham for some terrific football endorsed toys and equipment. Luggage, Football goals, sports balls and other outdoor play items are all part of these ranges. Fully committed to new product development ensures that Hy-Pro can take advantage of modern manufacturing techniques, as well as the economies of scale that can be achieved with mass global manufacturing.
HERO PRODUCTS

LICENCES HELD BY HY-PRO
RECOMMENDED RETAILERS

Amazon
The world's most famous online retailer sells an unparalleled selection of toys.
Buy Hy-Pro toys now >>