Peterkin Toys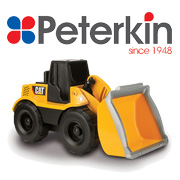 As a popular supplier to the UKís independent and multiple toy retailers, Peterkin have established a reputation within the toy trade as a responsible and trustworthy seller. First established in 1948, their Leicester base is centrally located to enable quick dispatch and delivery to their thousands of UK customers.

Their own label Dolls World ranges of dolls and accessories are popular consumer purchases. Many plump for the gorgeous baby dolls or ethnic varieties, as well the styling heads and larger jointed vinyl dolls with interchangeable clothing. Peterkin were also proud to be appointed as distributors of a large selection of Early Learning toys that are popular with preschool age children.
Radio controlled toys by Nikko, Viking vinyl junior vehicles and a vast selection of plastic and metal toy vehicles are constantly refreshed with new versions and styles. Most little boys and girls love Peterkinís selection of farm and wild animal figurines. These can be used on their own or in one of many playsets. Pocket money toys as well as arts & crafts sets are always popular purchases, and Peterkin always keep up to date with all the latest releases.
HERO PRODUCTS
LICENCES HELD BY PETERKIN
RECOMMENDED RETAILERS

Amazon
The world's most famous online retailer sells an unparalleled selection of toys.
Buy Peterkin toys now >>