Nixies Toys
No customer reviews yet. Be the first.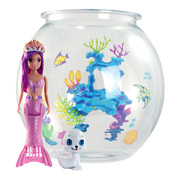 Whilst little boys may like to see a battery operated shark swimming in a tank full of water, we're sure that girls will much prefer Nixies! These gorgeous toy mermaids have an easily adjustable tail that alters the direction of their movement. Standing 5" tall, there are three different versions to collect, each with their own personalities and beautifully sculpted faces.
Amelia has a gorgeous teal coloured body with flowing red hair. She's the real adventurer in the group and loves exploring different places. She has a small turtle figurine for company on her travels. Bella is the pink one. Her complementary lavender hair makes her look like the ultimate party girl, and she has a gorgeous little white seal as her ever present friend. Narissa is arguably the best looking mermaid Nixie of all! A lavender coloured body and stunning aqua hair make her really stand out in a crowd. Her love of dancing and singing is there for everyone to see, and she just adores her little sea horse pet companion.
Nixies can swim in any plastic or glass bowl, and can also make bath time even more fun as they swim under the water. An aquarium starter set includes a Nixie with her little pet and a collection of accessories and decals for individual decoration.
RECOMMENDED RETAILERS

Amazon
The world's most famous online retailer sells an unparalleled selection of toys.
Buy the Nixies now >>