Moov Toys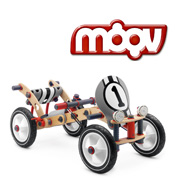 With the tagline "Make It, Moov It!", Moov is a creative, construction and ride-on toy from Berg Toys. With this revolutionary concept, you can now conceive, build and ride your very own wooden vehicle!
By using the rubber rings, coated steel axles, wheels and wooden boards that are all contained in the construction kit, you can build practically whatever kind of wooden ride-on you like, be it a scooter, trike, racer or carver! The finished toy can be used indoors, although we recommend you venture outdoors for the maximum fun.
The Moov toy can be constructed by hand and requires no tools - and if you wake up one morning and feel like changing your Moov from a scooter to a racer, you simply need to take it apart and reconstruct it. With a bit of ingenuitity and imagination, you can even try and invent your very own Moov model with products like the Moov Street Kit!
Apart from anything else, we think the Moov construction vehicles are amonst the best-looking toys out there - and having passed all CE and TUV regulations, parents can let their kids play with their Moov toy in absolute peace of mind.
RECOMMENDED CATEGORIES

Kids explore on two or four wheels with toys like bikes, scooters and go-karts.
Visit the Bikes & Rides category >>

Toys sold by shops in this category help kids to build almost anything.
Visit the Construction category >>
Outdoor toys and games are the perfect way to keep your kids fit and active.
Visit the Outdoor category >>

Many retailers specialise in nothing other than toys made from wood.
Visit the Wooden category >>