Moulin Roty Toys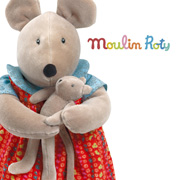 French company Moulin Roty are supreme makers of high quality plush soft toys, puppets and traditional wooden toys. The ducks, mice, rabbits, dogs, moles, hens and other animal characters have the most distinctive expressions and characters all of their own. All Moulin Roty toys are characterised by unique colouring, packaging and appearances which are appealing to children and adult collectors as well.

The fantastic soft toy creations by Moulin Roty are admired and collected all over the world and are divided into over eighteen categories. Les Ours, Dragonbert, Basile et Lola and Les Loustics are just a small selection. Edouard the Duck is one of the most appealing Moulin Roty collections - and apart from the plush toys customers can also purchase an armchair, dishes, rattles, scooter or photo album.
Each Moulin Roty character has its own assortment of products, and there are also some wonderful wooden and crockery items to supplement the general ranges. Wooden toys include aeroplanes, rocking horses, building blocks or cubes, skittle sets, tool boxes kitchen equipment and even a workbench. Moulin Roty have an ongoing policy of product development and are constantly adding new items to their extensive ranges.
RECOMMENDED RETAILERS

Amazon
The world's most famous online retailer sells an unparalleled selection of toys.
Buy Moulin Roty toys now >>

Crafts 4 Kids
Online retailer of creative, educational, wooden and activity toys.
Read more about Crafts 4 Kids >>
Fleurtations Jellycat
Stocks every Jellycat, Little Jellycat and Catseye London design.
Read more about Fleurtations Jellycat >>

Kiddy Moo
An independent family run business stocking children's indoor and outdoor wooden toys.
Read more about Kiddy Moo >>

Little Tiger Gifts
Specialises in fun high quality toys and gifts for babies and children.
Read more about Little Tiger Gifts >>