The British Museum Toys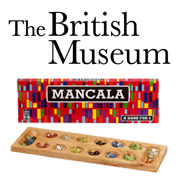 Home to an estimated 8 million artefacts from human history, art and culture, The British Museum is a world-class tourist attraction with something to fascinate all ages and interests.
In a similar way to how The Science Museum and The National Geographic strive to make science, geography and antropology accessible to a young audience, The British Museum works hard to offer its younger visitors toys, gifts and games that blend educational benefits with great play value.

From rubber ducks to a Da Vinci inspired wooden puzzle to a cuddly toy camel, the products sold by The British Museum can be purchased from the on-site gift shop or via their website thanks to a worldwide delivery service.
In January 2016 The British Museum outlined its plans to shake up the educational toy market by announcing that it wanted to launch its first ever range of licenced toys. The museum's licensing manager, Craig Bendle, made clear his intentions in an interview with the trade magazine, ToyNews: "We are looking to build a long-term, sustainable portfolio of toys that reflect the museum's core ethos of learning and discovery".
RECOMMENDED CATEGORIES

Find an excellent selection of board games here to suit all ranges from 3 to 103!
Visit the Board Games category >>

A constant flow of new toys that are good for your child's development.
Visit the Educational category >>