Family Board Games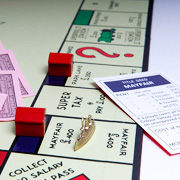 Everyone has fond memories of playing board games with the whole family... not just for special occasions but sometimes every night of the week! What parent hasnít been coerced into playing another game of Snakes and Ladders or Chinese Checkers!
Christmas is always a popular time for digging out all those old board games, and often there will be a new one added to the collection. With Monopoly taking top spot in many all time favourite board game lists, others like Scrabble or Trivial Pursuit always make the top ten lists and are firm favourites year in and year out.
Hasbro's MB family board games have stood the test of time, and with constant refreshing of packaging and parts to keep them up to date, they sell in their thousands every year. Many new board games are introduced to tie in with a TV quiz show or popular programme, and Drummond Park are one of the leading manufacturers of these licensed products. Electronics even play a part in modern family board games by speaking favourite phrases, spinning a wheel or for automatic scoring.
Laughter and fun are the key ingredients to a successful family board game, and with favourites like Pictionary or Scattergories thereís no shortage of either! Chess and Draughts maybe considered as a bit more serious option, but these well established games are still played by millions of people every year, with online versions becoming more popular. Even toy companies like LEGO are in the board games market, where a LEGO base replaces the board, and LEGO bricks are used as the playing pieces.
FEATURED RETAILERS

The world's most famous online retailer sells an unparalleled selection of toys.
Visit Amazon Now >>
POPULAR SUPPLIERS

OTHER RETAILERS