Children's Travel Games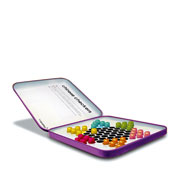 Keeping the whole family amused on short excursions and longer journeys alike is a timeless problem. Despite the invention of in-car DVDs and multimedia units, the need for stimulating and enjoyable travel games will always exist. Board game companies like MB Games make many of their popular products in mini sizes, all of which are ideal for keeping the kids entertained on long car, plane or bus journeys.
The constant problem of trying to make journeys go quicker is actually great for lovers of good quality travel games. It ensures that new and exciting products are always being launched to help keep things interesting! Some travel games are perfect to keep the kids occupied on those long road-trips, although many are also suitable for relaxing once you've arrived at your destination and the day's bickering has been long forgotten. The very best versions are perfect for kids of all ages... including the grown-up kind!
Almost every popular board game can be bought in a travel version, but even a simple pack of cards can keep the kids amused for hours on end. Top Trumps are an eternal boys and girls favourite, and with a great choice of subjects there's always something for all tastes. From small chess boards, pocket Monopoly sets and magnetic Scrabble, travelling has never been more fun!
FEATURED RETAILERS

The world's most famous online retailer sells an unparalleled selection of toys.
Visit Amazon Now >>
POPULAR SUPPLIERS

OTHER RETAILERS