Children's Card Games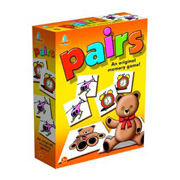 There's nothing more fascinating in the world of games than a pack of playing cards. With their roots going back to the 14th century, there is an almost unlimited number of adult and children's card games that can be derived from the popular 52 card deck. Whilst Snap and variations of Patience are two of the most popular, many kids will make up a game as they go along. Other children's card games can be bought as individual games like Pairs, Happy Families or Old Maid.
Favourite TV shows or films are very important to young children, and many manufacturers sign licences to brand a popular children's card game with one of the characters. Top Trumps is a phenomenally successful series of kid's card games, where two or more players compete to collect all the cards in the pack by comparing facts and figures about the subject matter. These make great travel games because not only are they small, but they're great at passing the time on long journeys.
Childrens classic card games have stood the test of time, but are supplemented by modern versions that require memory skills or entail remembering important sequences. Gibsons Games, Ravensburger, Orchard Toys and bigger companies like Mattel or Hasbro all have some children's products in their line up. Canasta or Whist can be learnt by kids at quite young ages, and by mastering the skills of these at a young age, this knowledge can help with the transition to Bridge as they get older.
FEATURED RETAILERS

The world's most famous online retailer sells an unparalleled selection of toys.
Visit Amazon Now >>
POPULAR SUPPLIERS