Children's Garden Games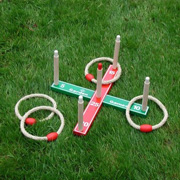 There's something quite special about playing games outdoors. Maybe it's the added unpredictability of the wind knocking your frisbee off course or the possibility of your dog running away with one of the boules. Or maybe it's just the joy of having the sun on your back and fresh air in your lungs that adds something to the competitive spirit.
Whatever it might be, outdoor games have been enjoyed for centuries and they have inspired the whole genre of toys that is now commonly referred to as garden games. Of course, you don't really need a garden to play garden games. A nearby park, a random patch of ground or even just a bit of the pavement outside your front door can be enlisted as your play area of choice. Most people think of giant chess boards when you mention garden games to them, although this is just the tip of the iceberg.
The famous garden game supplier, Jacques of London, makes everything from traditional croquet sets right up to oversized twister boards, humongous snakes and ladders and massive jenga towers that make a real crash when you accidentally knock them down! Browse these and other garden games at the toy shops listed below.
FEATURED RETAILERS

The world's most famous online retailer sells an unparalleled selection of toys.
Visit Amazon Now >>
POPULAR SUPPLIERS

OTHER RETAILERS