Children's Video Games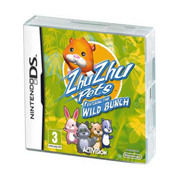 The explosion in the popularity of video games since the late 1990s has transformed the whole games scene. Whilst early games were aimed firmly at the teenage market, video games for young children are now big business. This means they can get to play on older siblings PS3, Wii or Xbox and have just as much fun!
Some of these youngsters may own their own portable device like a Nintendo DS, and with many of the video games incorporating some of their favourite TV characters or toys, they're almost spoilt for choice. Disney Princess, Roary the Racing Car and Ben 10 are just three examples of some of the young children's video games. Thankfully the producers also include some interesting brain training games into their offerings as well.
Video games are popular alternatives to traditional travel games, and keep the kids occupied on long flights or car journeys. There's a thriving second hand market in these products, as with no working parts to go wrong, they'll almost last forever as long as they're kept clean and dry. Sports, fantasy and strategy video games are all available for the youngest members of the family, and providing game time is controlled, they're a great addition to a kid's play things.
FEATURED RETAILERS

The world's most famous online retailer sells an unparalleled selection of toys.
Visit Amazon Now >>