Children's Strategy Games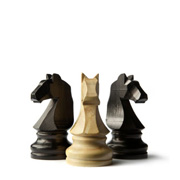 Clear and concise thinking skills are required to successfully complete most strategy games, with Chess being one of the best examples. Whilst there may be an element of luck if your opponent makes a silly move, the eventual outcome is usually dependent upon decisions that you made yourself. Many classic strategy games fall into this category with Mastermind and Battleships being just two more great examples.
Simpler versions like Rummikub or Connect 4 are terrific games for kids to use their grey matter and work out a problem or method of play. This early introduction to problem solving helps to develop their decision making skills later in life. Some of these may have been sharpened playing Risk, another classic childrenís strategy game based on achieving global domination. Itís an evergreen favourite that makers Hasbro regularly refresh to keep it up to date.
Some simpler strategy games for kids may introduce some of their favourite TV or film characters for extra interest, and as they get older they may be introduced to more advanced games based around science fiction characters or other improbable scenarios. Balancing games like Jenga are often considered to be strategic in the game play as one mistake and the tower comes crashing down!
FEATURED RETAILERS

The world's most famous online retailer sells an unparalleled selection of toys.
Visit Amazon Now >>