Children's Dice Games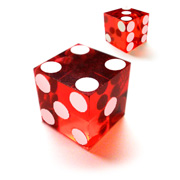 Probably everyone at some time in their life has used one of those familiar six sided cubes known as dice, most likely as part of a well known board game. Designed as a completely random method of choosing numbers from 1 to 6, dice are the central part of many children's games. Arguably Yahtzee is the best known modern children's version, although there are plenty of others too.
Whilst Backgammon, Craps and Shut the Box are familiar games mainly played by adults, the dice is central to hundreds of other games in all categories. Poker Dice is a variation on the traditional form and incorporates the picture suits from a deck of cards, whilst LEGO has a different slant on the humble dice by incorporating colours onto the dice sides for use in their children's games ranges. Games come and go in popularity, but favourites like Monopoly, Liar Dice, and Snakes and Ladders all use the dice to generate a player's turn, or some other sequence of events.
Produced in hundreds of different sizes, materials and colours, some people even collect dice as a hobby, and may have thousands in their collection. All the well known games makers like Paul Lamond, MB Games, Orchard Toys, Gibsons Games and even Games Workshop produce dice games for children, and with many of the kids favourite characters incorporated into the games, there's usually no shortage of dice in every household.
FEATURED RETAILERS

The world's most famous online retailer sells an unparalleled selection of toys.
Visit Amazon Now >>