Orb Factory Toys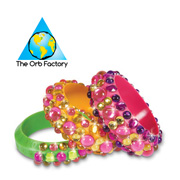 Taking its name from the company's first product, a wire transforming toy, The Orb Factory is constantly researching and developing innovative and high-quality toys and associated products. The owner has a background of graphic design, photography and geometry which he translates into the amazing selection of The Orb Factory toys.
Whilst the unique wire orbs captivate and entertain children and adults for hours on end, The Orb Factory arts & crafts ranges are pretty remarkable too. Magnetic mosaics and design sets allow children to let their creative imagination flow, and the educational magnetic puzzles do not just stop at finishing the jigsaw. Children can learn about the creatures or objects within the jigsaw, and some of them even contain posters to decorate bedroom walls.
A modern take on the classical Orb Factory toys are the wire sculpture sets. These enable the users to discover shapes such as cubes, stars, bridges and many other interesting designs. We particularly like The Orb Factory Vectorsphere which is made up from 96 wires and 36 aluminium tubes, and is a masterpiece of invention. Sticky mosaic sets are another of The Orb Factory's innovative toys. The sticky pieces of foam and other materials can be used to create some beautiful pictures to display on walls.
DISTRIBUTORS

RECOMMENDED RETAILERS

Amazon
The world's most famous online retailer sells an unparalleled selection of toys.
Buy Orb Factory toys now >>

Crafts 4 Kids
Online retailer of creative, educational, wooden and activity toys.
Read more about Crafts 4 Kids >>