Roary the Racing Car Toys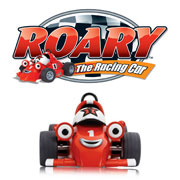 The toys for Roary the Racing Car are all based on the popular animated and computer generated TV series. Based around the fictional motor racing track of Silver Hatch, Roary is a red Formula 1 style racing car who has lots of similar friends. Roary's favourite catchphrase of "Light 'em up" is often heard in each show.
Roary the Racing Car toys are naturally mainly based around Roary himself, although many of the other favourite characters are also available. The licence has been sold to numerous other manufacturers products, and customers can even buy Roary the Racing Car patio sets or roller skates! Also available are cards and gift wrap, aprons, caps and of course the ever favourite Roary the Racing Car jigsaws.
Some retailers even offer products such as Roary the Racing Car walkie talkies, game cards and bubble racers, such is the popularity of this TV show. Customers can also buy Roary the Racing Car partyware, DVDs, clothing, books and homewares, and with more series in the planning stages, Roary the Racing Car is guaranteed a long and bright future.
Construction company K'Nex won the rights to produce various building toys inspired by Roary and his friends. Ranging in size and complexity, the Garage Building Set and Start Line Building Set both proved to be particularly popular. Similarly, Bandai signed a deal to produce items such as the Pitstop Workshop Playset.
RECOMMENDED RETAILERS

Amazon
The world's most famous online retailer sells an unparalleled selection of toys.
Buy Roary the Racing Car toys now >>