Schleich Toys and Figures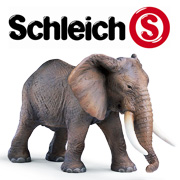 Acquired by the French firm Ardian in early 2014, Schleich is one of the best known toy companies in the world. Their injection moulded toy figures of animals, dinosaurs, birds, knights, elves and many other categories are played with by kids all over the world.
Although they have many competitors, Schleich toys and figures are the market leader in detail, range and value. As new manufacturing techniques are developed, so Schleich embraces the latest technology and bring even more detail and realism into these tiny replicas of so many things.
From the mighty models of dinosaurs to the tiniest little mouse, Schleich take great care to incorporate as much detail as possible into their toys. The children with farmyards or safari parks are spoilt for choice as almost every animal you can imagine will be available as a Schleich replica.
If the kids are into forts and castles, nothing could be better than filling them with the latest knights on horseback, wielding a sword or other fearsome weapon! Buildings and accessories are also an important part of the Schleich experience, whether itís a show jumping fence or a gigantic castle with drawbridge. The ranges are constantly being refreshed, and collectors as well as kids eagerly await each new release.
Schleich also produce a number of licensed product, from Smurfs to Peanuts and even DC Comics from January 2015.
LICENCES HELD BY SCHLEICH
RECOMMENDED RETAILERS

Amazon
The world's most famous online retailer sells an unparalleled selection of toys.
Buy Schleich toys and figures now >>

Silly Billy's Toy Shop
A good variety of toys and games in this lovely toy shop.
Read more about Silly Billy's Toy Shop >>

Wise Owl Toys
Offers inspiring, different and fun toys with an educational bias.
Read more about Wise Owl Toys >>