Schylling Toys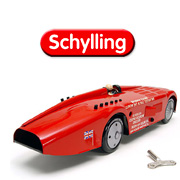 As well known makers of traditional toys, Schylling have selections ranging from a simple tin kaleidoscope to a retro sparking space gun. Some of the best loved and well established toys that have been played with by generations of kids have to be the jack-in-the box and the spinning top. Schylling toys make several different versions of both of these family favourites, that are as popular now, as ever.
Established in 1975, Schylling toys provide hours of fun for children of all ages, and apart from the past revivals, they also make some modern and innovative toys to keep any boy or girl happy. Musical Schylling toys include an accordion, guitar or harmonica, and the construction toys range from simple alphabet building blocks to a slightly more complex modular building system.
Toddler's toys are another Schylling speciality, and include pull along rollers or even metal ride-on vehicles. Girls will love the musical jewellery and trinket boxes, and the whole family can play some of the Schylling toys traditional games.
LICENCES HELD BY SCHYLLING
RECOMMENDED RETAILERS

Amazon
The world's most famous online retailer sells an unparalleled selection of toys.
Buy Schylling toys now >>