Science Museum Toys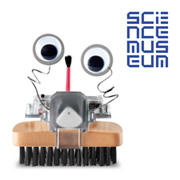 The renowned Science Museum in London is famous for its world-class exhibits and archives. Many a child has stood dumbstruck at the sight of some of the collections housed in this 7-storey building – with the rooms dedicated to space, flight and medicine proving especially popular.
It was a bit of a masterstroke when The Science Museum announced that they were licensing a whole range of toys. With so many children being inspired by the exhibits and wanting to take a piece of the museum home with them, toys were the perfect tool to encourage children to keep furthering their knowledge and understanding of the world long after they had left.
Most people think of chemistry sets when you mention science toys – and whilst The Science Museum does have several science kits as part of its offering, this is just a very small part of what they do. Animatronic robots, spy gear, microscopes and plasma balls are among their other ranges. Even babies are accommodated for with glow-in-the-dark solar system mobiles – and those on a small budget can select from a large range of pocket money toys and gadgets.
DISTRIBUTORS
RECOMMENDED RETAILERS

Amazon
The world's most famous online retailer sells an unparalleled selection of toys.
Buy Science Museum toys now >>