Silverlit Toys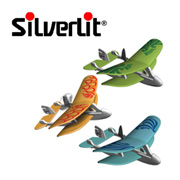 Established in 1977, Silverlit is a company that manufactures and designs innovative high quality toys that will appeal to kids of all ages. Best known as the company that invented the miniature indoor flying radio controlled helicopters, Silverlit are proud of the Guinness World Records recognition for the PicooZ as "the smallest remote controlled model helicopter in the world".
Electronics play a big part in many of Silverlit's radio controlled toys, and the robots and off road vehicles are just as important to the success of the company, as the helicopters. With great names such as Moonwalker, Jabber-Bot and Echo-Bot, the titles alone conjure up kids imaginations as exciting toys that they would like to own. The Silverlit toys miniaturisation has been extended to tanks and ships to appeal to all tastes and budgets.

In addition, there are some terrific Silverlit toys that require no batteries at all such as the bath time toys which are all highly original in their design and concept. Silverlit toys TuboZ Spin racers work with friction motors, and come in different styles but all with the same high powered force. All Silverlit toys are distributed on a worldwide basis, although the UK-based Flying Toys stocks a particularly comprehensive range.
HERO PRODUCTS

DISTRIBUTORS

RECOMMENDED RETAILERS

Amazon
The world's most famous online retailer sells an unparalleled selection of toys.
Buy Silverlit toys now >>