Sophie the Giraffe Toys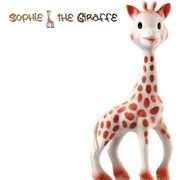 Having proved a popular choice for celebrities such as Kate Hudson and Maggie Gyllenhaal, Sophie The Giraffe is a giraffe-shaped teething toy that has been a favourite amongst teething babies and toddlers since 1961.
Why Sophie The Giraffe has become such a phenomenon is not immediately obvious. Certainly her size and shape make her ideal for a baby's small hands to grasp, and the squeak that Sophie makes whenever her tummy or head is pressed is certainly very cute, but it seems to be good old-fashioned word of mouth that has made Sophie The Giraffe such a legend in France and beyond.
Made the traditional way in Haute-Savoie, France, Sophie the Giraffe teething toys are made from 100% natural toxin-free rubber that has been derived from the sap of the Hevea tree. The sight, touch, smell and taste of Sophie the Giraffe seems to effortlessly collide to create the perfect combination for little ones that are cutting their first teeth. With so many positive reviews of this teether online, it's hard to argue with the evidence that this is one great product!
Fans of the Sophie the Giraffe teething toy will be pleased to hear that what was one a one-product brand has now turned into a brand that features several other lines. Although none are quite as popular as the original, the various bath toys and soft toys are well worth a look.
HERO PRODUCTS

RECOMMENDED RETAILERS

Amazon
The world's most famous online retailer sells an unparalleled selection of toys.
Buy Sophie the Giraffe soothers now >>