Sophie The Giraffe
(1 review)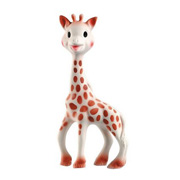 Sophie The Giraffe is one of best teether toys on the market and a firm favourite of any baby who receives one. Her charm and beauty seem to win over any teething child in a matter of seconds.

Originally made in 1961 in France, this retro toy is still handmade today in Rumilly (in the French Alps) using fourteen manual steps. Even better, Sophie is made from flexible, renewable natural rubber and non-toxic colours ensuring she makes a safe and natural teething toy for your little one. She has wowed over 10 million babies since 1961 and is still so popular today in France that 6 out of 10 babies have one!
Sophie The Giraffe Features Include:
- Soft and bumpy parts to soothe your baby's sore gums
- Long legs for entire gum chewing or hard to reach molars
- Light weight and easy to grasp and grip, even for small hands
- Soft squeak makes her fun for baby
- 100% natural rubber
- Painted with non toxic, food grade paints
- Phthalate free with no vinyl/PVC
- 17 cm tall

Sensory Development
Sight - dark and contrasting spots all over Sophie La Giraffe's body provide visual stimulation and make her easily recognisable to baby. She soon becomes a familiar and reassuring object.
Hearing - Sophie squeaks when pressed to stimulate baby's hearing and help them to understand the link between cause and effect. Of course it also keeps baby amused!
Taste - She is flexible and has lots of parts for baby to chew, perfect for soothing sore gums when teething and is also completely safe.
Touch - Sophie The giraffe is perfect for baby's small hands. She is very light and her long neck and legs are easy for baby to grip. She is also soft to the touch.
Smell - The scent of natural rubber (from the Hevea tree) makes Sophie The Giraffe very special and easy for your child to identify amongst all his other toys.

This classic toy gets great rave reviews from parents, magazines and of course baby! Even some of the Hollywood stars have been snapped out and about with their babies and Sophie such as Nicole Richie, Isla Fisher and Sofia Coppola. This classic teething toy is certainly taking the world by storm.
RECOMMENDED RETAILERS

Amazon
The world's most famous online retailer sells an unparalleled selection of toys.
Buy Sophie The Giraffe now >>