Sorgenfresser Toys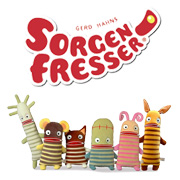 Sorgenfressers are a range of characters who like nothing more than feasting on worries or nightmares. Children merely write down or draw their worry, place it in Sorgenfresser's mouth and close the zipper firmly shut. There it stays until mum or dad removes it, providing the perfect opportunity to start a conversation.
Although Sorgenfresser won't make worries disappear on their own, they reinforce the idea that it's always best to share upsetting thoughts with someone who can help. Clearly nothing can compare to talking to a mum or dad, but Sorgenfresser are always on hand to provide comfort and reassurance; and of course writing or drawing about your worries can really help.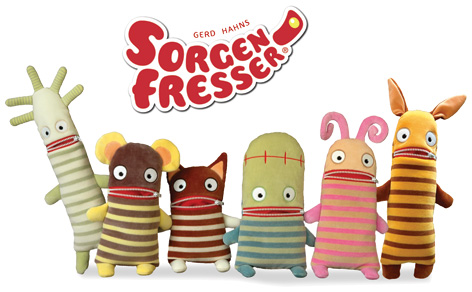 Constructed from a super soft plush, each Sorgenfresser character is unique: Saggo likes eating nightmares and things that hide under the bed, Polli likes eating worries with maple syrup, Biff has 3 ears to listen when worries are creeping up on you.
Developed by Gerhard Hahn, there are fifteen characters in the large size range with more being added on a regular basis. Kids may like to check out the junior styles of Sorgenfresser with Ernst, Saggo and Polli being the most popular. Keyring versions are great for carrying around the home or on a travel journey. Miniature mouth zips work in exactly the same way as their bigger brothers.
Sorgenfresser has received great feedback from children and parents who immediately understand the concept of giving your worries to someone else to look after!
DISTRIBUTORS

RECOMMENDED RETAILERS

Amazon
The world's most famous online retailer sells an unparalleled selection of toys.
Buy Sorgenfresser toys now >>

The Toadstool
An online toy shop selling mainly European toy brands such as Haba, Janod and Lilliputiens.
Read more about The Toadstool >>