Tech Deck Toys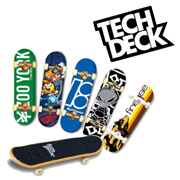 The best known supplier amongst the world of fingerboard manufacturers is Tech Deck. This US based company's products are distributed by Spin Master in the UK to their hundreds of traditional and online retailers. Made in roughly 1/8th scale of a real skateboard, kids can replicate real skateboard stunts by substituting their fingers for feet.
As well as an extraordinary range of decorated Tech Deck boards to choose from, accessories include a selection of ramps, tables and steps to practise those all-important stunts. The Boardshop set includes a selection of decks, wheels and trucks for kids to make fully customisable boards. A choice of mini stickers featuring awesome graphics ensures these Tech Decks are really unique.
A steady supply of new mini skateboard introductions makes for great collectability. Many of these have come from designs used by veteran skateboarder Tony Hawk, although many other equally famous stars have also contributed to a series of models. Made of either moulded plastic or wood, any Tech Deck can be modified by adding different rails, trucks, wheels or grip tape to change the balance and usability.
DISTRIBUTORS

RECOMMENDED RETAILERS

Amazon
The world's most famous online retailer sells an unparalleled selection of toys.
Buy Tech Deck toys now >>