Trampolines GB Shops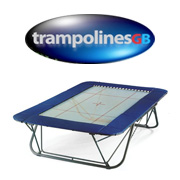 Trampolines GB is a family-run subsidiary of the world renowned professional trampoline maker Ceetex Ltd. This accumulated expertise of trampolining at the highest level is reflected in the unrivalled build quality and strength of their childrenís trampoline ranges. All Trampoline GB models are completely weather proof, although the addition of an anchor kit for windy situations is strongly advised.
The round trampolines are available in the popular sizes from ten to fourteen feet in diameter, and safety enclosures can help to keep the littlest bouncers safely on the mat! Trampoline GB also makes rectangular models that are popular too, and available in a choice of sizes. A selection of competition trampolines are also obtainable for home use, as well as mini rebounders for parents to keep fit as well as the kids.
In addition to their popular trampoline ranges, Trampoline GB can also supply table tennis tables, heavy duty football tables, gymnastic beams and high quality garden games like boules or croquet. Whether itís for fitness or just for fun, Trampoline GB can supply the perfect trampoline model for all requirements.
RECOMMENDED RETAILERS

Amazon
The world's most famous online retailer sells an unparalleled selection of toys.
Buy Trampolines GB trampolines now >>