Trio Toys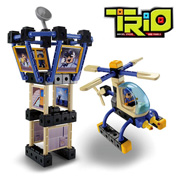 Specifically designed as a construction system for preschool children, Trio building sets from Fisher Price are easy to use for little hands. Cleverly using a combination of panels, sticks (rods) and 'easy-click' bricks, Trio toys offers the youngest kids almost unlimited possibilities to build whatever takes their fancy!
Available in a large variety of set sizes, Trio toys are easy to assemble, and by being made in bright primary colours of red, blue, yellow and green, these help youngsters with colour recognition too. Wheels and people are included in some sets to make realistic vehicles and play scenes which also help to encourage role play and imagination.
As one of the world's most well known toy brands, Fisher Price continues to develop Trio toys by introducing new elements to extend the play value. All parts are interchangeable between different Trio toy sets, and in no time at all the 3 years old children will be building Trio castles, airports, farms and aeroplanes.
RECOMMENDED RETAILERS

Amazon
The world's most famous online retailer sells an unparalleled selection of toys.
Buy Trio toys now >>