Fisher Price Toys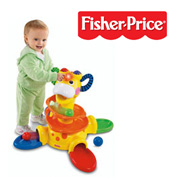 As a global brand and sponsor of The Baby Show, Fisher Price toys are well made, trusted and respected by kids and their parents the world over. Founded in 1930 and passing through various owners, Fisher Price is now fully owned by the mighty Mattel and their products are sold in hundreds of toy shops throughout the UK.
As the manufacturers of over 5000 different items since their creation, Fisher Price toys specialise in infant and preschool playthings. One of their best known ranges goes under the name of "Little People" which are playsets and vehicles based around a series of moulded animals and people.
Various licensed toys have been made which include popular names like Disney, Dora the Explorer and Octonauts. These can be added to the Fisher Price brands they already owned or created, like View-Master, Power Wheels, or Rescue Heroes.
One of the most iconic Fisher Price toys has to be the Chatter Telephone. Essentially a telephone shape mounted on rocking wheels, with eyes that rolled as the toy was pulled along. Originally made in wood, a collector would pay thousands of pounds for an early example in excellent condition. Electronics have now been added to many Fisher Price toys to give them the extra play value of light and sound.
HERO PRODUCTS
LICENCES HELD BY FISHER PRICE
RECOMMENDED RETAILERS

Amazon
The world's most famous online retailer sells an unparalleled selection of toys.
Buy Fisher Price toys now >>