Waybuloo Dancing Lau Lau Toy
No customer reviews yet. Be the first.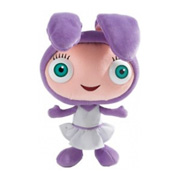 Lau Lau is the most creative of the Piplings and just adores playing peekaboo! Her playful antics are brought to life in this talking Peek & Pull Lau Lau plush that's loved by little fans of Waybuloo everywhere.
Just press her tummy and watch her ears cover her eyes for lots of peekaboo fun. Young children seem to never tire of playing peeka with this adorable Lau Lau toy - and when you see her for yourself you can see why!
Peek & Pull Lau Lau is complete with fun phrases and her signature melody - and is suitable for children ages 18 months and up. Be sure to snap up this Lau Lau toy as soon as you see it as demand is sky high!
RECOMMENDED RETAILERS

Amazon
The world's most famous online retailer sells an unparalleled selection of toys.
Buy Waybuloo Dancing Lau Lau Toy now >>