Waybuloo Toys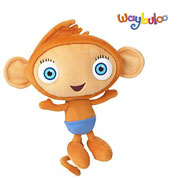 Situated in the wonderful world of Nara, Waybuloo is a preschool TV show from the BBC that has generated a huge interest from visitors to Toy Shop UK. This is largely thanks to the excellent Waybuloo toys that are available including the Waybuloo puzzle game and soft Yojojo toy.
This popular CBeebies show features 4 Waybuloo Piplings: Fun loving and mischievous Yojojo, caring De Li, creative Lau Lau and the incredibly inventive Nok Tok. The four friends each enjoy Yogo (a similar activity to yoga) where they practice moves that are often inspired by nature and the things around them.
Unlike other BBC children's shows such as In The Night Garden, we love the way that the Piplings share their adventures with the cheebies - human child visitors to their world - and how preschool viewers are therefore encouraged to interact by joining into with gentle exercise. We also happen to think that the show has inspired a great selection of Waybuloo toys - and we look forward to seeing what new products are released as the show gains even more momentum.
Fisher Price created an outstanding collection of toys based around characters from this popular show. Most of them having working features like the wiggling ears on Lojojo! Smaller softs toys are made Posh Paws. They have a well deserved reputation for making quality plush toys at affordable prices. Other Waybuloo toys include playballs, tote bags, hair clips and playsets.
HERO PRODUCTS

DISTRIBUTORS

RECOMMENDED RETAILERS

Amazon
The world's most famous online retailer sells an unparalleled selection of toys.
Buy Waybuloo toys now >>

Kiddimax Character Toys
A UK-based website that sells character toys and other character-based products.
Read more about Kiddimax Character Toys >>