Godzilla Toys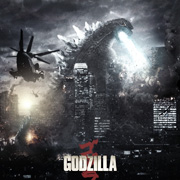 Since first appearing in a 1954 film, Godzilla, "The King of Monsters", has appeared in no less than 28 other films as well as numerous other cartoons, books, comics and video games. This mythical character has spawned a huge following of fans who canít get enough of Godzilla merchandise.
Jakks Pacific acquired the master toy licence for the 2014 Warner Bros. movie simply known as Godzilla. Devotees of this mythical monster are buying lots of toys and collectable figurines along with other characters in the movie. Playsets are also popular, each one based on an iconic moment in the film.
A giant 43" tall Godzilla figure with twelve articulated joints is billed as the hero product in an extensive line-up of action toys. Other products include a series of large scale detailed figures.
Well known fancy dress company Rubieís are also on board with a selection of dressing up costumes suitable for both kids and adults. Other toys, jigsaws, games, apparel, mugs and keyrings also hit the streets in time for the films launch.
Jack McGrath from Jakks Pacific said: "We have extensive experience in the creation and marketing of large scale figures based on powerhouse film franchises and we expect this new line of even bigger figures to make a true contribution to the Godzilla legacy."
DISTRIBUTORS
RECOMMENDED RETAILERS

Amazon
The world's most famous online retailer sells an unparalleled selection of toys.
Buy Godzilla toys now >>