The Croods Toys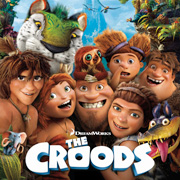 Released in March 2013, The Croods is a film created by DreamWorks Animation starring actor Nicolas Cage as Grug and Ryan Reynolds as Gy. Set in the fictional Croodaceous period, it features fantastic creatures that are threatened by the arrival of an advanced mastermind. Grug has to leave his cave home behind when an earthquake strikes the area, and the film traces his adventures as he sets off with his wife Ugga and daughter Eep in search of a new life.
US toy giant Mattel struck a deal with DreamWorks that sees them make a range of The Croods toys, as well as for several other planned movies. Mattel are well known for capturing the feel of the characters and scenes when they create the products and The Croods toys are no different. Kids just love The Croods action figures and creatures that are produced under their well-known Fisher Price brand. With plenty of working parts, kids can recreate their favourite film scenes using the playsets.
Other companies such as PMS supply The Crood soft toys featuring all the best characters like Mousephant, Eep Girl, Macawnivore and Punch. Nintendo are also in on the action with a game for their Wii console. Children love anything based in prehistoric times which is where this film absolutely hits the mark.
DISTRIBUTORS
RECOMMENDED RETAILERS

Amazon
The world's most famous online retailer sells an unparalleled selection of toys.
Buy The Croods toys now >>