Whoozit Toys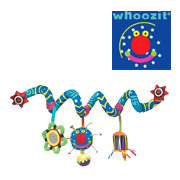 Designed to hold babies' attention and encourage them to explore the world by pressing, pulling, shaking and crinkling, the wonderful range of whimsical Whoozit toys have been created by Manhattan Toys to stimulate senses and develop vital motor skills.
With bright, bold colours, bizarre shapes and lots of different textures and materials, Whoozit toys are a must-have favourite for many parents. All baby toys from Whoozit are made from strong, durable materials to ensure they can survive even the roughest play. Ranging from small to large, this award-winning selection of toys are just perfect for little hands.
Whilst some Whoozit toys are designed as stand-alone pieces, many can be easily attached to car seats or buggies - and their price-tag makes them ideal as birth or christening gifts. Help develop the imagination of your baby by checking out our selection of Whoozit retailers below.
RECOMMENDED RETAILERS

Amazon
The world's most famous online retailer sells an unparalleled selection of toys.
Buy Whoozit toys now >>

Dragon Toys
A teddy bear & soft toy shop selling quality brands.
Read more about Dragon Toys >>